Alas for those who had left and are in their long slumber. For those whose life has ended. Life is full of difficulties and problems. But applause for those who have brought peace into their lives.
safar poetry in Urdu is especially for people and I wish them a happy life. If you have ever faced difficulties in your life then these 2 lines of journey poetry are for you.
Ussey Poocho Azab Raston Ka,

Jis Ka Sathi Safar Mein Bichra Ho
This sadistic journey poetry is for those whose companion has died on their journey the poet elaborated that two of the people were traveling together and on their travel, one of them just died. I might think it was the poet himself who was traveling with his friend and his friend just died on the voyage so the poet said these two sadistic journey poetry in Urdu. anyway 
Not just for certain purposes journey poetry can be the remedy for many things like some of the man have dreams to be fulfilled and some have a certain destination to achieve so they can read these poetic verses to soothe their pain and it can be an enthusiastic dose for the people who love to read safar Poetry In Urdu.
Safar Poetry In Urdu
---
In Urdu
اِک عُمر سے فریبِ سفر کھا رہے ہیں ہم
معلوم ہی نہیں کہ کِدھر جارہے ہیں ہم
In Roman English
ik umar se freeb_e_ safar kha rahay hain hum
maloom hi nahi ke kِdhr jarahay hain hum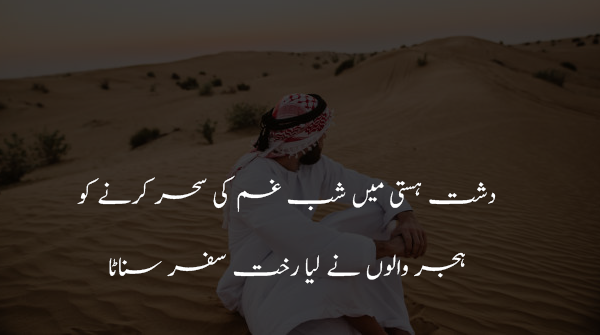 In Urdu
دشت ہستی میں شب غم کی سحر کرنے کو
ہجر والوں نے لیا رخت سفر سناٹا
In Roman English
dasht hasti mein shab gham ki sehar karne ko
hijar walon ne liya rakhat safar sannata
life inspiring mirza ghalib quotes
In Urdu
سفر شروع تو ہونے دے اپنے ساتھ مرا
تو خود کہے گا یہ کیسی بلا کے ساتھ ہوں میں
In Roman English
safar shuru to honay day –apne sath mra
to khud kahe ga yeh kaisi bulaa ke sath hon mein
---
In Urdu
مرگ اک ماندگی کا وقفہ ہے
یعنی آگے چلیں گے دم لے کر
In Roman English
merg ik mandghi ka waqfa hai
yani agay chalein ge dam le kar
In Urdu
کہیں تو ختم کر دو سفر اذیت کا
کہیں تو پھینک دو مار کر مجھے
In Roman English
kahin to khatam kar do safar aziat ka
kahin to pheink do maar kar mujhe
---
In Urdu
اپنی مرضی سے کہاں اپنے سفر کے ہم ہیں
رُخ ہوائوں کا جدھر کاہےادھر کے ہم ہیں
In Roman English
apni marzi se kahan –apne safar ke hum hain
rukh havaon ka jidhar kaahe idhar ke hum hain
---
In Urdu
جب سے اس نے شہر کو چھوڑا ہر رستہ سنسان ہوا
اپنا کیا ہے سارے شہر کا اک جیسا نقصان ہوا
In Roman English
jab se is ne shehar ko chorra har rasta sun_saan sun-hwa
apna kya hai saaray shehar ka ik jaisa nuqsaan sun-hwa
In Urdu
---
جستجو کھوئے ہوؤں کی عمر بھر کرتے رہے
چاند کے ہم راہ ہم ہر شب سفر کرتے رہے
In Roman English
justojoo khoye huoon ki Umar bhar karte rahay
chaand ke hum raah hum har shab safar karte rahay
In Urdu
---
سفر میں ساتھ میرا اور کوئی کیا دیتا
ہوا بھی میری طرف سامنے سے آئی
In Roman English
safar mein sath mera aur koi kya deta
sun-hwa bhi meri taraf samnay se aayi
---
In Urdu
مدتوں اس کی خواہش سے چلتے رہے ہاتھ آتا نہیں
چاہ میں اس کی پیروں میں ہیں آبلے چاند کو کیا خبر
In Roman English
muddaton is ki khwahish se chaltay rahay haath aata nahi
chaah mein is ki peeron mein hain aablay chaand ko kya khabar
---
In Urdu
اس سفر میں نیند ایسی کھو گئی
ہم نہ سوئے رات تھک کر سو گئی
In Roman English
is safar mein neend aisi kho gayi
hum nah soye raat thak kar so gayi