Hi, guy here we are back again with an exciting topic Love Shayari in Urdu, this is the most beloved topic and is often read by numerous people daily, Shayari in Urdu love enables the reader to express the innermost feeling for his/her loved ones. It is also considered a sensitive topic by many intellectuals, thinkers, and scholars……
Love wali Shayari in Urdu is available with beautiful images and text here at our website so you can enjoy and read to you will……….. We have gathered some of the most famous and best romantic poetry in Urdu for lovers.
When you are feeling romantic and there is an order of romance in the air then you can enjoy that romantic weather by reading this Shayari in Urdu love. So let's start reading………….
You can share this best Shayari in Urdu love with your friends, and other loved ones. We have given the option of sms, text, and download so it can be easily shared with anybody.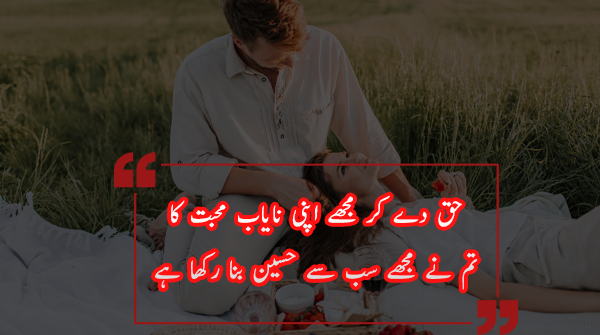 ---
حق دے کر مجھے اپنی نایاب محبت کا
تم نے مجھے سب سے حسین بنا رکھا ہے ..
مجھے نہیں معلوم
وہ پہلی بار کب اچھا لگا مگر اس
کے بعد
کبھی برا نہیں لگا
---
تیری باہوں کی پناہوں میں سکون ایسا ملا
جیسے بھٹکے ہوےٴ مومن کو خدا مل جائے