Now, 2-line urdu Shayari is available here on our website so you can read some of the best 2-line urdu poetry. So we hope that you would enjoy Urdu bewafa poetry in 2 lines. These 2 lines of urdu quotes and poetry include romantic, sadistic, love, bewafa, and rage poetry.
We thought to gather these 2 lines of poetry in urdu because these are easy to read within some seconds and also people enjoy them. The sad poetry in urdu 2 lines is from the poets like Ahmed Farz, Iqbal, Munir Niazi, and other local as well as renowned poets.
You can share and download these 2 lines of quotes for our site and can directly tag them the whom you want to. Keep reading these eloquent pieces of 2 lines of sad poetry and quotes.
میرے ہوتے ہوئے گر تجھ کو نہیں فکر مری
میرے نا ہونے سے کیا فرق پڑے گا تجھ کو
mere hotay hue gir tujh ko nahi fikar meri
mere na honay se kya farq parre ga tujh ko
بے وفاہی کی سب کتابوں میں
تیرے جیسی کوئی مثال نہیں ..
be وفاہی ki sab kitabon mein
tairay jaisi koi misaal nahi. .
دیکھ لو میں کیا کمال کر گیا
زندہ بھی ہو اور انتقال کر گیا..
dekh lo mein kya kamaal kar gaya

zindah bhi ho aur intqaal kar gaya.
++++++++++++++++++++
+++++++++++++++++++++++
تو نے دیکھا ہی نہیں ساتھ مرے چل کے کبھی
میں ہوں تنہائی کا بھی ساتھ نبھانے والا

to ne dekha hi nahi sath marey chal ke kabhi
mein hon tanhai ka bhi sath nibhanay wala. .
نہ جی بھر کے دیکھا نہ کچھ بات کی
بڑی آرزو تھی ملاقات کی
---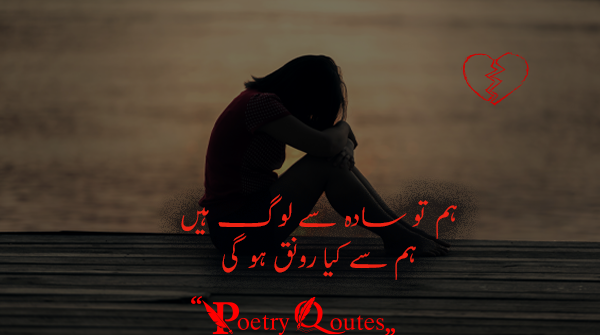 ہم تو سادہ سے لوگ ہیں
ہم سے کیا رونق ہو گی
Hum tou saada se log hain
Hum se kya ronaq ho gi
خاموشی کا مطلب لحاظ بھی ہوتا ہے
لوگ اسکو کمزوری سمجھ لیتے ہیں
Khamoshi ka matlab lehaz bhi hota hai
Log isko kamzori smjh lete hain
تم اپنی اچھائی میں مشہور رہو
ہم برے ہیں ہم سے دور رہو
Tum apni achai main mashhoor raho
Hum bure hain humse door raho
راس تنہائی بھی نہیں آتی
اور ہر شخص سے بیزار بھی ہوں
Raas tanhai bhi nahi aati
Aur har shakhs se bezar bhi hoon
سب سمجھتے ہیں غم ہے مجھکو
ہنستے رہنا بھی ایک مصیبت ہے
Sab samjhte hain ghum nahi mujhko
Hanste rehna bhi ek museebat hai
خودی پر مان اتنا ہے کبھی مڑ کر نہیں دیکھا
جسے کہہ دوں کہ میرا ہے،اسے ہونا ہی پڑتا ہے
Khud pr maan itna hai kabhi murr kar nahi dekha
Jisay keh doon ke mera hai, usy hona hi parta hai
لگتا ہے محفل میں اترنا پڑے گا دوبارہ
کچھ لوگ بھول گئے ہیں انداز ہمارا
Lagta hai mehfil main utrna pare ga dobara
Kuch log bhool gye hain andaaz hamara
خود کو اچھا دکھانے کے لئے
کچھ لوگ میری برائی کرتے ہیں
Khud ko acha dikhane k liye
Kuch log meri burai karte hain